Integrated Systems Europe – (10-13th May 2022 - Fira Barcelona): LAMP has reported a busy show on stand 3C400, from ISE's Barcelona this year. The company's double award-winning RN Series received a lot of attention. Highly distinguished by awards for its eminent appearance and user-friendly design, the RN Series is convenient for one-person installation with rugged protection characteristics, to realize uninterrupted use.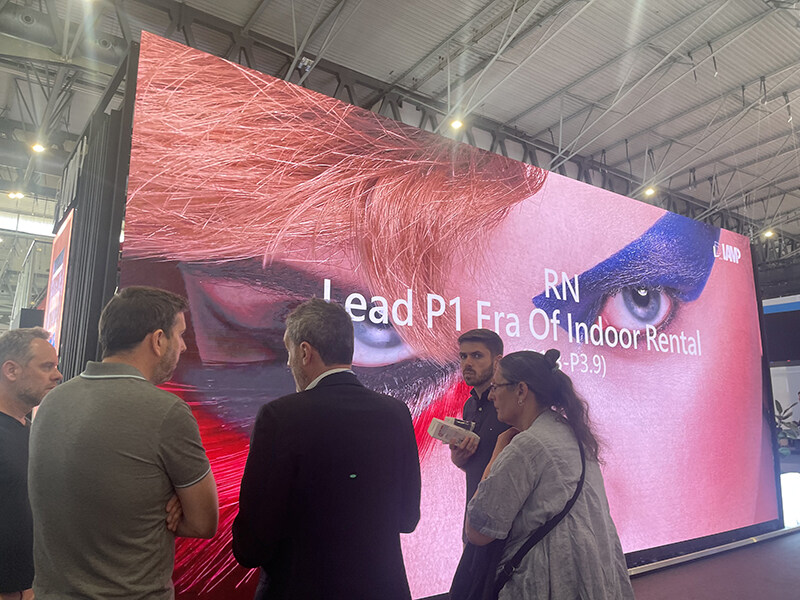 The high-quality beauty of the RN Series with its super lightweight (7.53Kg) and super slim (66mm), 1000 NIT HDR RN2.6 video panels, adorned the stand's reception desk. Compatible with a wide choice of XR-capable control systems, the RN Series is well-suited to immersive applications whilst also able to meet a wide array of physical designs head-on. Not only are concave and convex orientations achievable but right-angles, cubes, and columns are just as easily attained.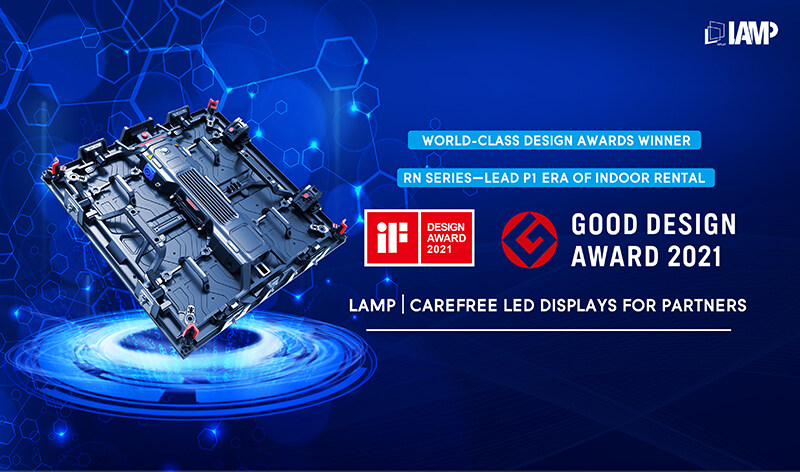 A striking feature doorway, constructed from a combination of LAMP's GN PLUS and WNX ranges, drew visitors from the aisles. Designed for high-end installations such as shopping malls or meeting rooms, the noise-free environment and the visual clarity of the GN PLUS multifunctional LED display provided the perfect foil for the WNX Series display tiles.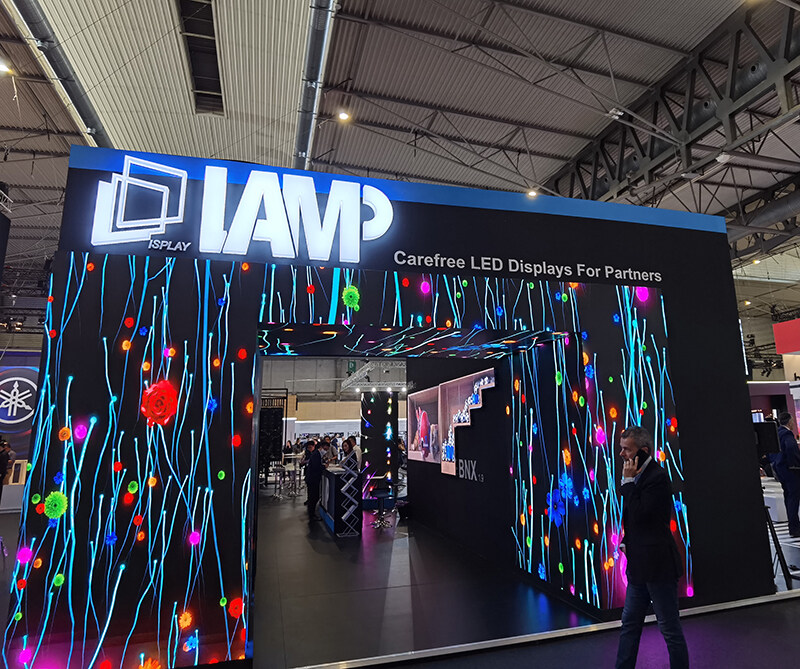 Light and slim with a fast assembly system for easy installation, the flat finish of the GN PLUS is supported by features such as direct PCB contact with the cabinet body. The upgraded control box ensures superior heat dissipation and a faster and more stable connection.
The WNX Series did not disappoint with attention-grabbing creativity. It features a high greyscale at 14 bit and a high 3840Hz refresh rate for a vivid display. Super bright (up to 1000NITS) and cost-effective, WNX cabinets are sub-30mm, weighing 0.75Kg per cabinet.
However, LAMP's WNX Series is designed for more than its looks. Whilst each single module completes a 45-degree angle, concave or convex, enabling a cylinder – as seen on the stand – to be constructed from just eight modules, the WNX Series has a serious side. It is cost-effective – a single control box works a max. of eight modules, whilst also quick and safe to install from the front for convenience, where all maintenance is also carried out.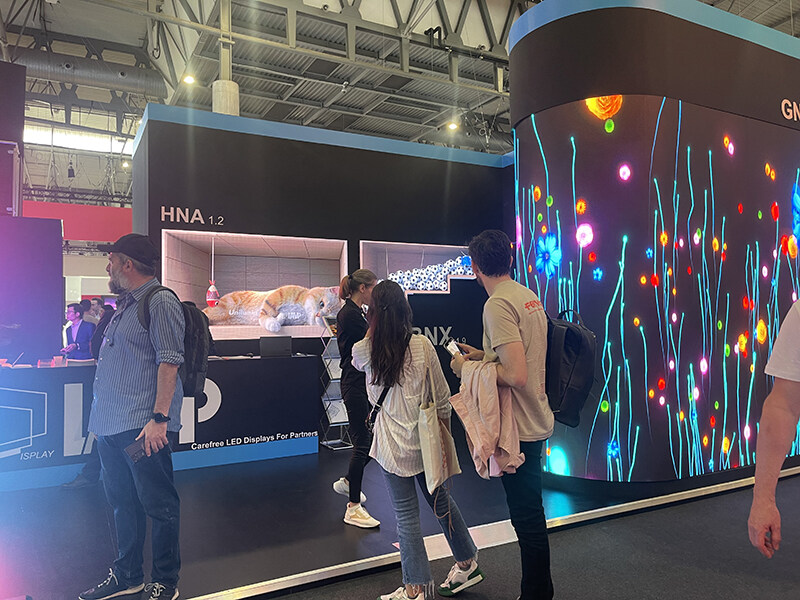 Drawn through the stylishly animated doorway, visitors were met with a display of LAMP's creative indoor signage solutions. The BNX Series demonstrated both the variation in available module sizes as well as its ability to combine malposed. The svelte 48mm depth of the BNX Series serves to efficiently dissipate heat, whilst no back shell also allows for full front maintenance of the modules.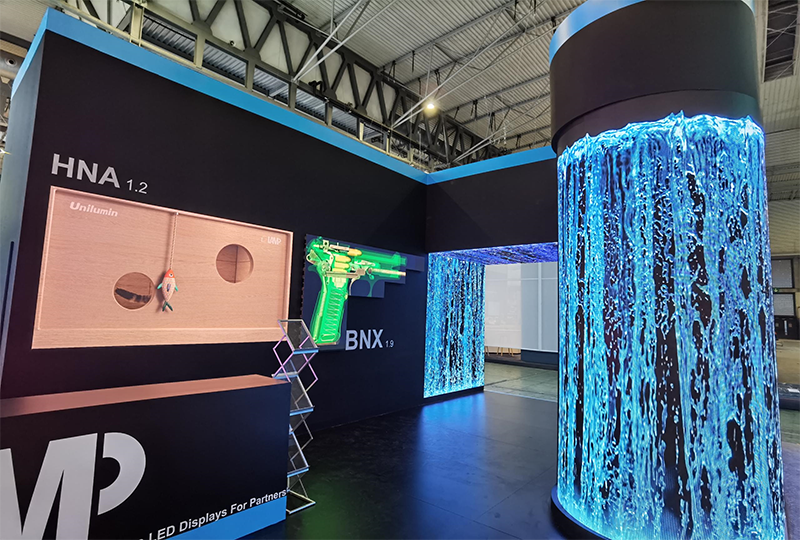 Meanwhile, the wireless HNA 16:9 ratio 1.9mm module displayed the incredible detail of crashing waves through fine pitch HDR. LAMP's HNA Series is standard in size but its intelligent modules store and manage calibration data and other LED panel information, assisting better heat dissipation and better contrast by increasing brightness by 20% or reducing consumption by the same amount.
On the creative showcase of its comprehensive and diverse range of video display technologies, Lawrence, LAMP's general manager commented, " We have seen the need for future display application scenarios, and we also show them to you. Be LAMP's partner and enjoy the carefree LED displays."
Watch our video, unlocking various rental, commercial, and professional LED display solutions.
(This is the video URL on YouTube: https://youtu.be/U4oSWpMcl1w)